Kyle Szymanski, The Brentwood Press, October 20, 2019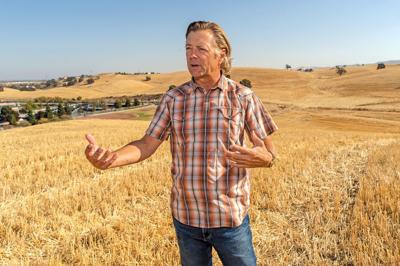 The Press continues to explore Brentwood's Measure L, this week focusing on roads and traffic.
The measure — spearheaded by a group of local developers, including longtime Brentwood farmer and developer Ron Nunn — would move the mark at which urban development must stop, clearing the way for a proposed 815-acre project of up to 2,400 residential units (at least 80% age-restricted, active-adult-specific), along with other elements, situated north of Balfour Road, east of Deer Valley Road and west of the Shadow Lakes and Brentwood Hills neighborhoods. The special election is set for Nov. 5.
The proposal promises a range of roadway improvements, but measure opponents believe that, even with the roadway amendments, the project is too big for the area and will worsen traffic, strain infrastructure and degrade quality of life.
An independent environmental impact report estimates the project will generate 14,970 daily vehicle trips, which includes an estimated 748 during the morning peak hour, and 1,361 during the evening peak — although the impact is expected to increase gradually, since the buildout process is slated to occur over an estimated 20 to 25 years.
Roadway improvements
Project plans outline key improvements to American Avenue and Balfour Road, along with money to enhance Deer Valley Road.
American Avenue, which currently terminates in front of Adams Middle School, would be extended west and north to reconnect to Balfour Road, creating a continuous loop road featuring a landscaped median dividing one travel lane, a parking or bike lane, and sidewalk in each direction. These improvements are expected to commence early on in the project, prior to any first-phase building permits being issued.
Bob Nunn, a member of the Blackhawk Nunn Partners development group, said the improvements have long been needed to improve the area's traffic circulation and safety. The additions mirror plans suggested by a 2008 community task force comprising city, county, school district and parent representatives that was held up by cost, Nunn said.
"We are not developers who build and run," Nunn said. "We live here. We are trying to improve conditions."
The proposal also calls for Balfour Road to be widened from two to four lanes, from the existing eastern American Avenue intersection, west to the new western American Avenue intersection. Balfour would be further upgraded to a three-lane arterial roadway from the Balfour Road and new American Avenue intersection, to Deer Valley Road.
The improvements are slated to be completed in phases, with phase one widening Balfour from two to four lanes — from the existing American Avenue to the project's entrance — and then expanded to a two-lane road west to Deer Valley Road.
Phase two, as traffic demand necessitates, calls for Balfour Road to be widened from two to four lanes from the project's primary entrance — a divided minor arterial roadway north of Balfour Road — west, to the new American Avenue intersection.
Phase three — again, dictated by traffic demand — entails Balfour Road's expansion to a two-lane road, from the new western American Avenue intersection, west, to Deer Valley Road.
The development group states they will also provide funds for safety improvements to be completed on Deer Valley Road, which currently features a travel lane and gravel shoulder in each direction. However, the road lies within the jurisdiction of the City of Antioch and unincorporated Contra Costa County, so the timing and nature of improvements are beyond the City of Brentwood's control.
Traffic and roadway analysis
An independent environmental impact report of the project indicates that, in their current states, several city intersections will operate at deficient levels. But mitigation measures can be implemented to alleviate issues.
For example, the report concludes that four unaltered intersections — including Balfour Road at Mountain View Drive, Foothill Drive/East Country Club Drive and at Eagle Rock Way/Cortona Way — would operate at unacceptable levels when combining current conditions with projected project impacts, but they could regain acceptable status once mitigation measures are implemented.
Another segment of the study draws similar conclusions when looking ahead at seven current intersections in 2024 and factoring in project conditions. Among those seven are Balfour Road's intersections at Deer Valley Road, Mountain View Drive, Eagle Rock Way/Cortona Way, Fairview Avenue and at the State Route 4 eastbound ramps.
Likely mitigation measures include median improvements, signal timing changes, intersection alternations and additional roadway changes, among others.
"A lot of these intersections are already at (unacceptable levels)," Nunn said. "We are making them better than they are today."
The report notes that jurisdictional boundaries will add a layer of complexity to achieving recommended mitigation measures to certain areas, such as in the area of Deer Valley Road and the Balfour Road intersection at State Route 4 eastbound ramps.
Regionally, the analysis indicated the project's impact would be less-than-significant at five key regional intersections, looking far into the future: Sand Creek Road at the State Route 4 eastbound Ramp, Sand Creek Road at the State Route 4 westbound Ramp, Walnut Boulevard at Vasco Road, and Camino Diablo Road at Vasco Road. Although those stretches of roadway are likely to be functioning at less than ideal levels prior to the project impacts.
In a letter to the city in response to the notice of preparation of the environmental document, the California Highway Patrol added that infrastructure improvements need to be implemented to increase the vehicular volume capacity of State Route 4.
"Without substantial infrastructure upgrades this project could have a negative impact on our operations due to the increased traffic congestion, which could lead to a potential increase in traffic collisions, increased response times, delays in emergency services; and a negative impact on the safe movement of people, services, and commerce within our jurisdiction," the letter reads.
Measure opponents, meanwhile, are adamant that the project as a whole will have an immense traffic impact.
Kathy Griffin, who has spearheaded a community action group opposing the proposal, said this week that the estimated 14,970 daily car trips and intersection analysis is proof the project is a bad fit for Brentwood.
"When you look at a project of this magnitude, this size, it doesn't make sense to build out this parcel and add additional traffic to the area, even though they are saying they are going to make improvements," Griffin said.
Griffin points out that at one stage in the project's construction, 11 current intersections are deemed unacceptable, and that number remains seven at buildout.
To make matters worse, the roadway improvements nestled in the project, such as the American Avenue amendments, aren't fixes, she said.
"You are not reducing the sheer amount of vehicles that go to the two schools on a daily basis," she said. "By my own observance, most cars coming down American Avenue still, after they drop their kids, are going east or they are going straight across West Country Club (Drive) north of the school, they are not going west." Putting them further down west will only lengthen their trip down Balfour."
Traffic problems in general will also escalate when the future Los Medanos College opens, further burdening traffic impacts on Vintage Parkway, Fairview Avenue and the State Route 4 Bypass.
Griffin believes the better project for the Measure parcel is already found in the city's General Plan, allocating 583 ranchette-style, low-density homes on the land.
"It's my contention that this (Measure L project) is too big for the parcel, too big for the western side of Brentwood and it cannot go forward in its present state," she said.
Brentwood Police Chief Tom Hansen and Brentwood Traffic Engineer Steve Kersevan declined to comment for this piece.
To view maps of the project, visit www.thepress.net
For more information on the Measure L election, visit www.bit.ly/2VMLi1T. For more information on the traffic plan from Measure L proponents, visit www. yesonlforbrentwood.org/trafficplan. For information from the opposition group, the Alliance for a Better Brentwood, visit www. allianceforabetterbrentwood.org