Kyle Syzmanski, Brentwood Press, March 14, 2019
A longtime Brentwood farmer and developer is among a group that has planted an idea to expand the city's urban limit line to accommodate a large senior housing project that includes commercial elements.
But another local faction has already launched plans to dry up the idea.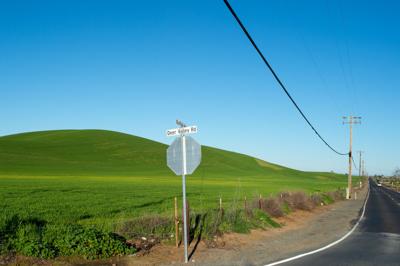 Ron Nunn and his family, along with their partners, Matt and Steve Beinke and others (collectively the Blackhawk Nunn Partners), intend to craft a November ballot initiative to expand Brentwood's urban limit line — the mark at which urban development must stop — 800 acres west of Shadow Lakes to Deer Valley and Balfour roads. The project seeks to accommodate up to 2,400 homes, Nunn said.
The area, owned by the Ginochio family and used for cattle grazing and dryland farming for the last 150 years, is bordered by Deer Valley Road to the west, Balfour Road to the south and the city of Antioch to the north.
Nunn has a contract with the Ginochio family to develop the property.
The first step in bringing the expansion question before voters involves collecting 3,500 Brentwood residents' signatures, approving the move, Nunn said.
"It's a good plan, it's a good use and it's in the best interest of Brentwood, it really is," he said.
But talk of the potential change has sprouted a citizen-action group, the Alliance for a Better Brentwood, to protect the city's community feel and farmland.
"An age-55-and-over component or not, this development's negative impact can't be mitigated and leaves no jobs in its wake," said Brentwood resident Kathy Griffin, who has spearheaded the opposition effort.
If the urban limit line is expanded, and the project is allowed to proceed, it's expected that at least 80 percent of it would be used for senior housing, with around 15-20 acres dedicated to commercial elements, which could include a winery, a farm-to-table restaurant or other attractions, Nunn said.
Additionally, Nunn said the often traffic-plagued American Avenue, which currently terminates in front of Adams Middle School, would be extended to intersect with Balfour Road, which would be widened, and safety improvements made to Deer Valley Road.
The unbuildable, steep portions of the property, such as the large hill that fronts Balfour Road, could be preserved for agriculture such as grapes and olives, Nunn noted.
The earliest the project could break ground would be 2023, and it likely wouldn't build-out until the 2040s, Nunn said.
But opponents of the plan have already expressed concern it could forever change the residents' quality of life, adding traffic, long-term construction impacts, further strain the already stressed fire and school districts, destroy the community separator between Brentwood and Antioch and add additional, unneeded senior housing.
Griffin, who successfully fought similar proposed urban limit line changes in 2006 and 2010, pointed out that Brentwood already has 3,778 housing units approved, under construction or pending inside city limits.
"Why would I approve a move of the urban limit line for 2,400 more?" she said.
Her first meeting to alert the public about her effort to stop the urban limit line expansion drew a crowd of 57, a number that has since grown.
Griffin feels the urban limit lines east and west of town shouldn't even be considered until the city completes a development plan for a 431-acre property in the northwest — an area expected to one day feature 4 million square feet of commercial development, supporting 8,400 jobs, 2,100 housing units and 4,500 people.
Nunn disputes many of these arguments, noting that senior communities generate 25 percent of the traffic of conventional housing projects, garner money for schools without adding children, add disposable income to the community, and attract improved medical services.
He also points out a huge buffer between Brentwood and Antioch would remain in the over 2,000-acre Roddy Ranch property that borders Deer Valley Road and is now part of the East Bay Regional Park District.
The project would also bring much-needed improvements to American Avenue and Balfour and Deer Valley roads, Nunn added.
"I think it's a nice project, I really do," he said. "I know there is an element out there that wouldn't like any project."
If the necessary amount of signatures are gathered in the months leading up to November, it's expected the Brentwood City Council would put the measure on the ballot, Nunn said.
Nunn noted that he and his partners would work with the already stressed fire district leading up to an election to address its obvious shortage of funds, and ensuing lack of adequate resources. The agency's three current stations cover 249 square miles and an estimated 119,000 residents.
But the opponents of the overall plan are quick to state they feel that any benefits of the proposed expansion effort wouldn't outweigh the negatives it would bring to the community.
"It's unconscionable he (is) suggesting this project at this time," said Brentwood resident Rod Flohr.